Art, Activism, and Representation with Micah Bazant
Main Content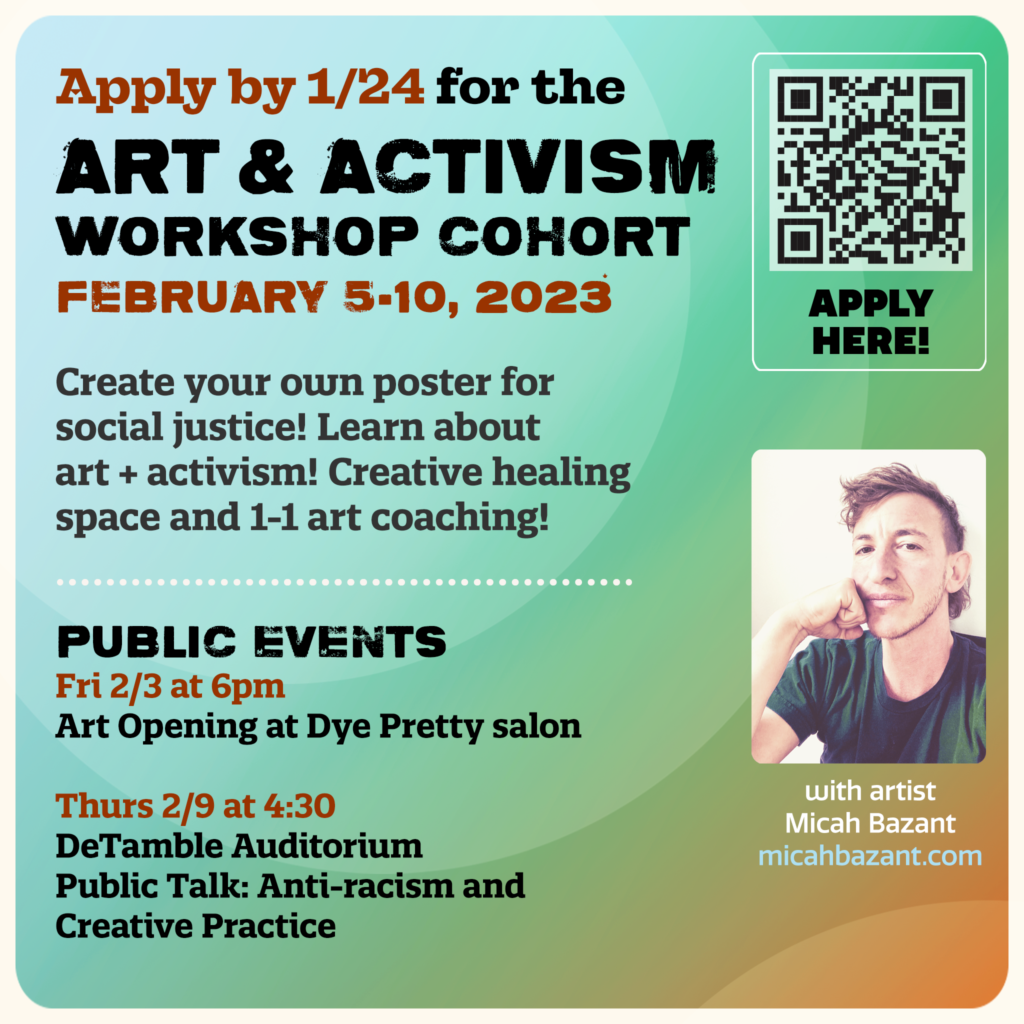 Women's, Gender, and Sexuality Studies and Jewish Studies invites you to join us February 3-10 for "Art, Activism, and Representation with Micah Bazant," a pilot community-engaged artist-in-resident program, featuring the Bay Area-based artist and community activist Micah Bazant. For a unique, immersive experience, please consider applying to spend the week making a social justice poster from start to finish with Micah and a cohort of Wake Forest students, faculty, and staff, and activists in local community organizations.
Apply to join the Art and Activism cohort! In this week-long intensive workshop and creation space, Micah will shepard a group of students, faculty, staff, and community members through their own visioning and creation of social justice posters for particular social justice causes and organizations. The week begins on Sunday, February 5, with shared study of the history of social justice graphic art, an exploration of the ethics of collaborative art-making, and the creation of a healing space. Throughout the week, participants will work in this space (on their own schedules), with group and individual consultations with Micah. Final posters will be printed on Saturday, February 11, and hung in the Dye Pretty gallery and salon through March, with open public viewing until March 31 and a celebration at the March 3 First Friday gallery hop. Cohort members must be able to commit to spending the necessary time in this compressed period to complete their work. Prior art experience will be useful but is not required. Application is due January 24, and the cohort will be limited to 15 participants (decisions will be made based on expressed interest and creating a balanced cohort).
"Art, Activism, and Representation" kicks off at 6 pm on Friday, February 3, with an intimate show of Micah's work at the Dye Pretty gallery and salon, as part of the downtown Winston-Salem First Friday gallery hop on Trade Street. Come mingle with the artist and community members, and check out the surrounding venues. Several events are open to the public in person and online, and the related downtown art show is open to the public February 3 – March 31.
Micah will give a hybrid public lecture on Thursday, February 9, at 5 pm in DeTamble Auditorium (Tribble A110) on "Anti-racism and Creative Practice," drawing lessons from their decades of experience collaborating with diverse community organizations and creating an ethics of art-making that feeds social liberation. To be sent the zoom link on the day of the event, please provide your email address here.
Please help us publicize this program by circulating this email and the attached graphics (the event overview and application QR code, and a set of Micah's works to be used as Instagram slideshows, etc.). Questions can be directed to Mir Yarfitz (yarfitmh@wfu.edu) and Julia Jordan-Zachery (jordanjz@wfu.edu). This event is co-sponsored by: African-American Studies, Art, the Interdisciplinary Arts Center, Jewish Studies, the Office of Civic and Community Engagement, the Vibrant Campus Fund, the Women's Center, and Women's, Gender, and Sexuality Studies.
Micah Bazant is a transgender Jewish visual artist who works with social justice movements to reimagine the world. They create collaborative art inspired by struggles to decolonize ourselves from white supremacy, patriarchy, ableism, and the gender binary. Bazant is the author of the groundbreaking underground Jewish trans zine Timtum (1999). Their artwork has been exhibited and published internationally and is in the permanent collection of the Los Angeles County Museum of Art. Bazant specifically creates art in cross-community collaborations that are based in relationships between people of different races, abilities, religions, genders, sexualities, etc. The foundation of their work is a deep understanding that all our liberation is bound together. This conviction is reflected in every step of their work from the shared creative process and the final artwork, to its ongoing life and impact in the world.